How it all Started
Music runs deep in the history of my family. My father, grandfather, great grandfather, uncle, and cousin were all trumpet players. It's something that came to me naturally, and by the time high school ended, I was already an accomplished musician.
After High school graduation in 1996, the most logical path seemed to pursue a career as a music teacher. In the fall after graduating, I became a music education major, but it didn't take long for me to realize I wasn't where I belonged. 
It's funny how history has a way of repeating itself; my grandfather left college to enlist during World War II, similarly to my grandfather (but for decidedly different reasons) two years into my own college experience, I realized the academic life wasn't for me. I wanted to play music, not study it.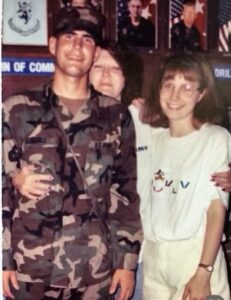 Back to Basics and The Call to Serve
In 1998 after realizing school wasn't for me, I auditioned for the Army Band, after passing that audition, I traveled to Fort Jackson, South Carolina for basic training. My role as a trumpet player in the Army Band was a way for me to keep my passion alive and serve my country through music.
History repeated itself yet again in 2018; my son decided, after graduating high school, to follow in my footsteps and enlist upon graduation, where he proudly served in the 101st Airborne Division at Ft. Campbell, Kentucky. He is currently using his GI bill to attend the University of Pittsburgh. 
September 11th and Its Aftermath
I was serving in Fort Huachuca, Arizona, with the 36th Army Band when the September 11th, 2001, attacks happened. The events of 9/11 changed the world, and they certainly transformed the nature of our performances. Music became a tribute to the brave, and a way to raise morale during the toughest times.

The Transformation from Military Life to Sales Success
By 2004, after tours in Southwest and Central Asia and being honorably discharged, I began transitioning into the civilian world. With no degree but plenty of grit, I took on the challenge headfirst. 
Sales seemed the best place to channel my army-instilled discipline, and I wanted unlimited earning potential. I knew if I worked hard, I could make a good living. 
I began reaching out to automotive dealerships before I even moved back home, and one of them agreed to have a job waiting for me when I got out; it was Diehl Automotive in Butler, PA.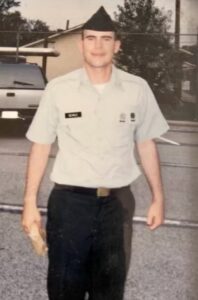 A Journey of Endurance and Entrepreneurship
Today, after two decades of success in automotive, and running multiple franchise dealerships, I wear multiple hats – I'm a partner in Think Ad Group, a marketing company that specializes in helping dealerships succeed. I'm the founder of SALT Automotive, a finance & insurance agency that also services the automotive space and I've recently taken on a leadership role as VP of Sales at The Atticus Group. The Atticus Group helps small to medium-sized businesses retain their employees by helping them design plans to fuel growth, loyalty, and legacy. 
Giving Back
My days now involve more than just sales. I've found several causes very close to my heart, thanks to my wife and her passion for giving back. I help her with a non-profit, Robins Home; they are a shelter that provides support to homeless female veterans and their children. 
Seeing fellow vets struggle, I'm reminded that the return to civilian life can leave scars too deep for some. In the face of rising homelessness among women veterans, giving back feels not just important, but necessary.
Still Strumming through Music 
Though my trumpet-playing days are behind me, I've swapped brass for strings, playing guitar daily. It's my stress reliever and solace after a long day. I even jam in a classic rock cover band, and my collection of guitars is a testament to that enduring love of music.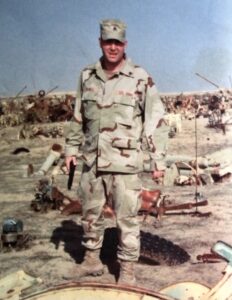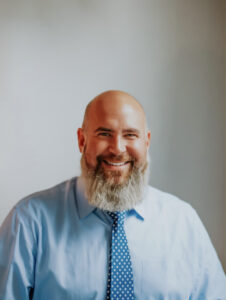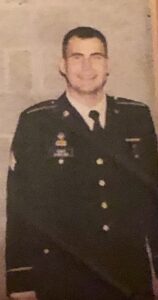 Parting Notes
I wouldn't have the success I have had in my career without the discipline and drive I learned from the Army. When I enlisted at 21 years old, I was not athletic; I was out of shape and overweight, and I was older than most other soldiers.  Every physical demand that I was challenged with in basic training and beyond taught me that intestinal fortitude, pain, and determination, could get me where I needed to be.
As I share this story with you, I think about what Veterans Day means to me. It's a time to pay tribute to all who have served, the cooks, the medics, the infantryman and women, the Navy Seals and Army Rangers, and the Military Bandsman! To all that have volunteered to serve, I say thanks!  
We have the power to make a difference, whether it's through our careers, our hobbies, or our willingness to lend a hand. For any veterans out there wondering about their next chapter, know that there's a world of opportunity waiting for you. 
And to everyone, remember that the path to fulfillment is rarely straight – but it's always worth traveling.
Want to learn more about this topic? Make sure to follow Justin Searle on LinkedIn.